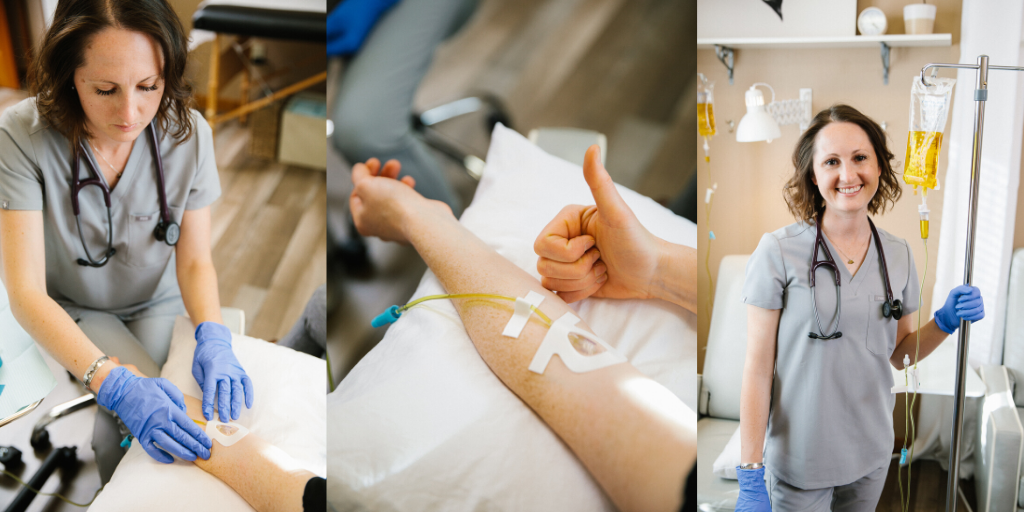 Spring's IV Therapy & COVID-19:
Hey Spring Family, just wanted to remind you all about the benefits of IV therapy, especially now, among the COVID-19 pandemic. Spring has developed a great Immune Supporting IV!   IV therapy allows us to deliver potent nutrients and vitamins STRAIGHT INTO YOUR BLOODSTREAM. When we use IV therapy, we bypass the digestive tract and do not need to rely on your gastrointestinal tract for absorption.  When we deliver nutrients through your circulatory system, we are able to deliver and disperse them quickly throughout the body. We are also able to give you higher doses of vitamins and nutrients than what you would be able to absorb through your GI tract naturally.  There are few contraindications to IV therapy and it is generally well tolerated overall.
IV Vitamin C:
Did you know in China they are using vitamin C to address the lung inflammation associated with COVID-19?   Vitamin C's potent antioxidant effects have been shown to reduce inflammation.  The most worrisome symptom of COVID-19 is that it can cause severe lung inflammation and respiratory distress in the vulnerable. While no supplement, nutrient, herb or other natural product is currently known to be effective against COVID-19, we know IV therapy is hydrating and replenishing for your general health overall.
Immune IV:
The doctors at Spring Integrative Health have formulated a wonder immune boosting IV that you might be familiar with.  It is our IMMUNE IV – which contains B vitamins, vitamin C, lysine and zinc delivered in a carrier solution of normal saline.  Lysine and zinc are especially beneficial when fighting viruses. Not only does this IV give you the immune boosting nutrients you need, but it also helps with dehydration.  End your IMMUNE IV drip with a GLUTATHIONE PUSH for additional immune support. Glutathione is one of the body's most potent natural antioxidants and also helps with overall detoxification.
IV therapy is an EXTREMELY BENEFICIAL GIFT we are so proud to offer our patients.  If you are interested in learning more about IV therapy, please call us to discuss with the doctors about how MEDICAL IV THERAPY can be of benefit for you.
406-586-2626
To read Dr. Bonville's update on the coronavirus click here.