IV Therapy in the Bozeman Area
These therapies are efficient, easy ways to administer vitamins and nutrients to achieve health goals, whether that be recovering from acute illness, treating chronic disease, or improving well-being in the moment.
Intravenous therapy is the speediest way to replenish exhausted nutrient stores because it bypasses the digestive tract in favor of nutrient delivery directly into the bloodstream. IV nutrients can lots of benefits!  IV therapy treatments offered at Spring Integrative Health are tailored to address different conditions including but not limited to, supporting the immune system, improving collagen and skin health, reducing side effects and improving the efficacy of chemotherapy, and replenishing the body in recovery from exercise. Our doctors will also create custom IV formulations for patients as indicated to achieve specific health goals.
Intramuscular therapy at Spring Integrative Health is a simpler way to get a quick boost of nutrients. IM therapy is great for those patients who want nutrient therapy without the time commitment of IVs, or for those patients for whom IV therapy is not appropriate. Our nutrient injections may boost energy, elevate mood, drive liver detoxification and promote weight loss.
Follow us on Instagram @spring_integrative_health or Facebook @springintegrativehealth
for Walk-In times weekly!
IV Menu: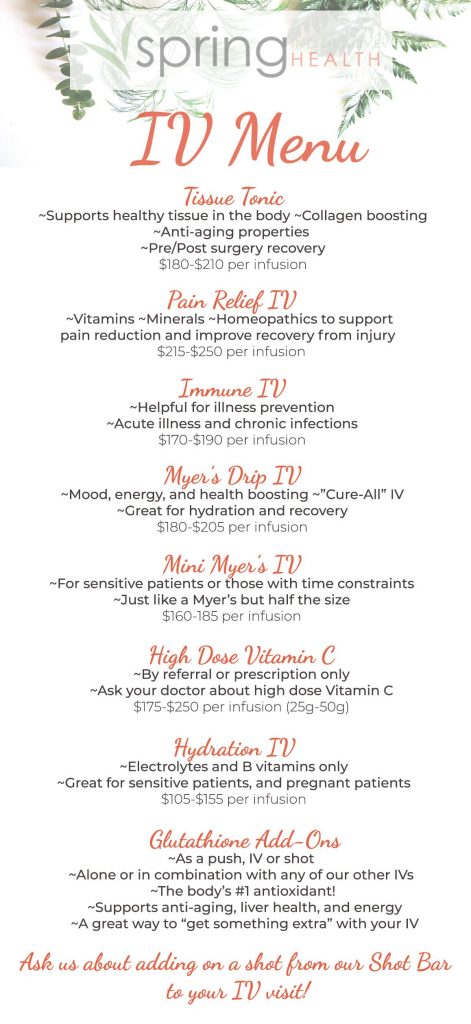 Please call us to schedule: 406-586-2626 or Click here to contact us through our website!
Our Nutrient Drips and Injections Experts