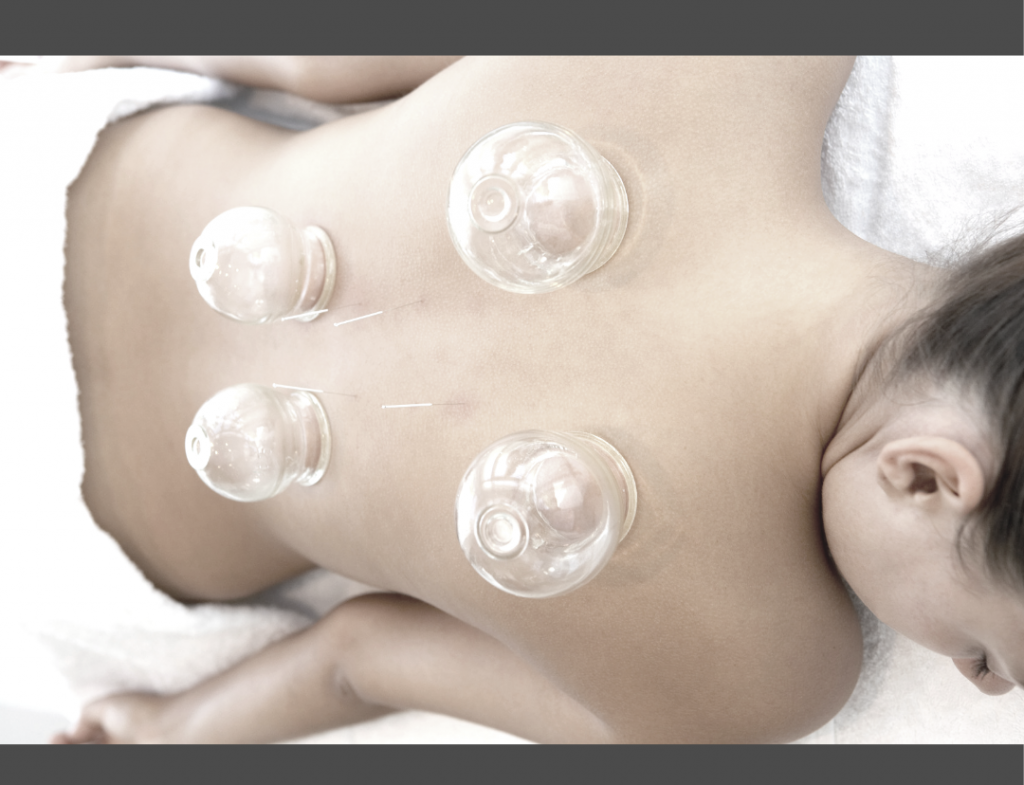 Those bubbly things are cups and I admit they do look a little weird. These days you're likely to see the tell tale, but temporary, large rounds marks made by cups on celebrities like Jennifer Anniston, Gwyneth Paltrow, or David Arquette, but the reality is that it is one of the oldest methods of medical treatment known in the world.
Cupping was practiced by the Chinese, as well as ancient Egyptian and Middle Eastern cultures.  
I was surprised to see a set of bamboo cups on display in the doctor's office at the Old Salem Living History Museum in Winston Salem, NC. Apparently the pre-Revolutionary Moravian doctors knew a thing or two about this interesting and effective treatment modality.
Why would anyone want to do that?
Good question. For one, it's relaxing. Sort of like a deep tissue massage without the pressure. A flame or a pump is used to create a vacuum that suctions the cups onto the skin. Depending on the condition being treated, the cups are either stationary or slid on the skin to massage a larger area. The suction mobilizes the flow of blood, lymph, and that elusive thing known as qi to promote the healing of a wide range of problems: Tight shoulders and neck, low back pain, headaches, some types of tendonitis, gastro-intestinal, and respiratory problems.
A Case Study:
One of the most effective uses for cupping is respiratory conditions. Lingering cough, asthma, bronchitis, even the common cold respond well to cupping therapy. When my daughter was in college, she came down with a bad case of the respiratory bug that was running rampant through the dorms before finals. Not wanting to bring needles and a Sharps box into the dorm, I arrived with my set of cups.
A pale and sweaty face greeted me as she opened the door and a deep cough racked her body.  She didn't need to say "I feel awful," but she did anyway. After a review of her symptoms to rule out a more serious bacterial infection, she laid face down on her bed. I affixed the cups to her upper back amidst questions like will this leave a mark? (Yes, but it won't hurt and will only last a few days), will this work? (Probably will help, won't hurt).
The cups drew so much heat out of her body, they fogged up. My daughter fell in to a deep sleep for the first time in days. Twenty minutes later, when she awoke and I removed the cups from her back, she took a deep breath without coughing. After a brief look of surprise, she smiled. "Huh."
"Feel a little better?"
"Yeah. That was weird, but I do feel better."
She made a rapid recovery after that and had no problem showing up for her final exams.
Obviously, not all cupping sessions produce such dramatic results, but time and again, it has proved to be an effective therapy for both acute and long-time problems.
Please contact me if you have more questions about cupping or are interested in discussing your individual condition-406-586-2626 or contact me here on Spring's website through the Contact tab!